Web Design & Internet Marketing
Text or Call Now:
813.360.0932
How To Use Hashtags For Marketing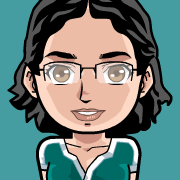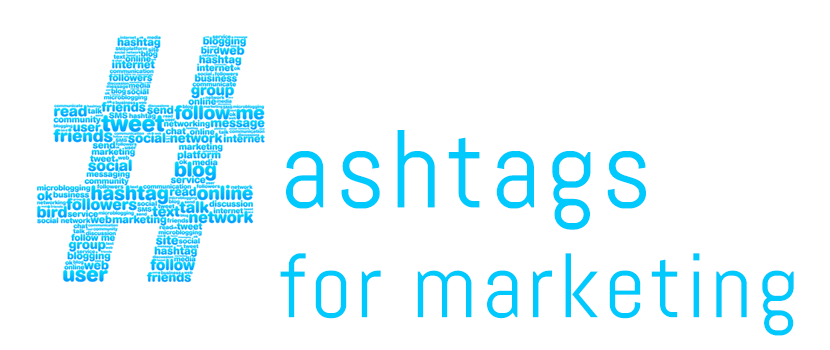 I was driving with my six year old son in the car recently and he said to me, "You know what I don't like about hashtag farmlife mommy?" I said "what?" He responded with "Hashtag snakes. By the way what does hashtag mean?" As I explained what hashtags were to him and what they are used for, I recalled a number of conversations that I have had with other business owners about hashtags and we decided it was time for a blog about the infamous #.
What is a Hashtag?
A hashtag is a word or phrase placed after a # symbol with no spaces. For example, #foowebs or #webdesign or #marketing. They are used on the internet (mostly on instagram and twitter) to tag a post so that it can be found by someone who is searching said hashtag. The first official use of a hashtag was in July of 2009 when Twitter started using it, and then in 2011 Instagram added hashtag support. In 2011 Google+ started making use of hashtags and in 2013 Facebook jumped on the bandwagon.
Why use a Hashtag for Marketing?
Creating a social post that you want to reach beyond the followers you have requires a hashtag. If someone is not your follower it is very unlikely that they will ever see a post you create if you do not use hashtags. However, if you use the right hashtag, you will not only build exposure to your post, but you will also create more followers who are actually interested in what you are posting and hashtagging about. So, in essence, a hashtag is essentially a way to amplify your messages. If you aren't creating business posts to grow your audience, then you are wasting your time.
What are Hashtags used for in Marketing?
Branding - Using a hashtag for branding will do little to amplify your brand in the short term. For branding you can use your company name or tagline for a hashtag. While this may not help you in the sense of marketing, many brands do partake in branding hashtagging. If you do make use of branding hashtags - make sure you use a unique one that is short and easy to spell. If someone else is using the same hashtag, then move along and find a different one. One of the ways people make use of this type of hashtagging is to require anyone entering a company contest to use their brand hashtag. The result will be lots of people using that hashtag and even more eyes on your brand. Personally I would prefer having them tag your account than using a brand hashtag so that your actual profile can be linked to rather than a list of posts about your brand.
Organizing - Have you ever needed to dig through your photos for something and not been able to find it? This may be much more common in your personal life than your business ones but the concept can be used for both. If you use a unique hashtag for a set of posts or photos, then when you search it you will always find any posts or photos in the set. For example, I use a unique hashtag for all photos I post on Instagram with my son in it. If I needed to look for photos of my son on Instagram then I just search that hashtag and they all come up. It is important here to use a unique hashtag, or you will be swimming through other people's posts as well. You can apply this to your business posts by organizing certain marketing campaigns, or seasons, or divisions of the business. For instance if you are Billy Buster's Men's Clothing Store you could use hashtag #billybustersties to promote your ties and #billybusterspants to promote your pants. Using this concept, you could display and browse your photos of said category simply by searching those hashtags.
An example of organizing bits of your brand by hashtags would be Google using the hashtag for GooglePhotos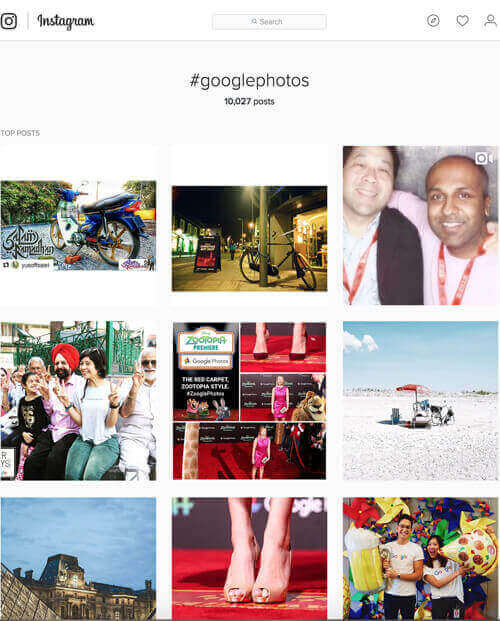 Communicating - Often (more often on Twitter), brand hashtags are used for communicating. For example, a company will tell their clients to use a particular hashtag to sign up for a contest, or get an immediate response during a particular chat or time period. This is basically a way to say "hey this post applies to what you are talking about - include me". You could do something like this for your business by telling your clients if they have any technical questions to twitter you using #brandnameTechHelp and then set yourself an alert anytime that hashtag comes up so you can address it quickly. So this is essentially a way to help take care of your community of followers and communicate with them using a #phrase. The key here is to make sure you monitor these tags so you can quickly respond to them.
An example of communicating using a hashtag is how Coke used the #shareacoke campaign. See below how this hashtag has allowed Coke to both communicate with their audience and now have this beautiful collection of images full of free advertising.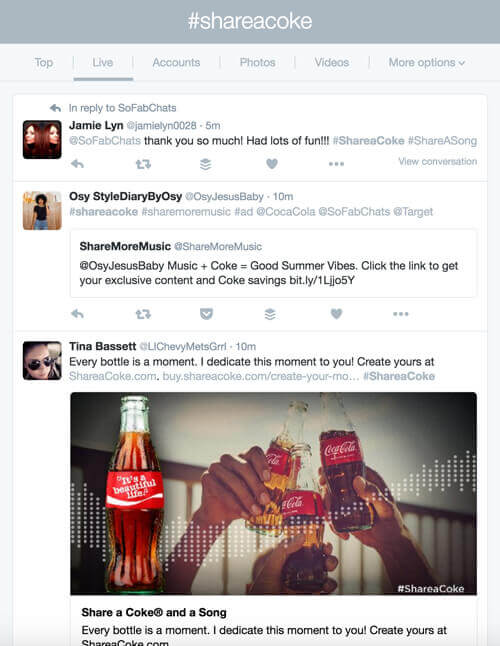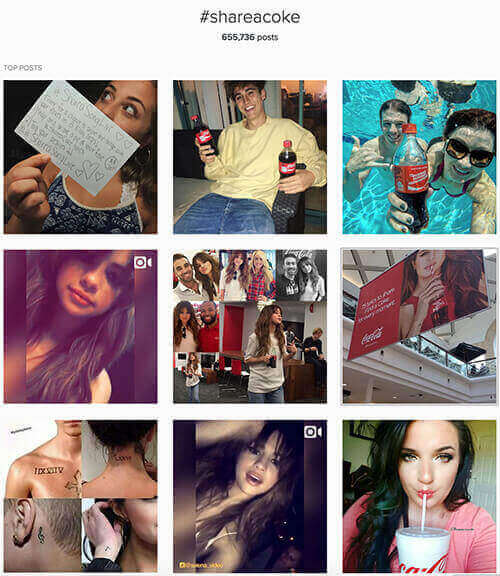 Marketing Campaigns - Now this is the hashtag bread and butter! Using hashtags for marketing campaigns is the best way to use them to amplify your message. Using known hashtags to drive traffic to your posts is as vital as getting your website listed in a search engine. Regardless of your niche, I guarantee we can find some great hashtags to help people find you. If you were to create a post on Twitter that includes valuable information for people interested in your product, and you used a relevant hashtag, then everyone interested in said hashtag will be exposed to your post. This technique could result in additional followers, favorites which will result in more exposure for that post, and best yet someone clicking through to your website and potentially purchasing your product or service. Using hashtags for marketing campaigns results in additional exposure, increased reach for your brand, and makes it easier for people to find your brand. When using hashtags for marketing it is vital to not use unique hashtags but to use hashtags that are searched by others for that all important exposure and brand amplification. You can find these hashtags by looking at the people who you already know are interested in your genre and see what they are hashtagging their posts with, or even check out your competition's hashtags. The key here is to use hashtags that reference the problem, the industry, the type of product or service, but not necessarily you specifically - because we are looking for people who do not know of your brand but do have a need for the solution your brand offers.
An example of marketing your business using a popular hashtag to promote your business would be if you are a restaurant in Tampa and post on twitter as below so people looking for restaurants will find you: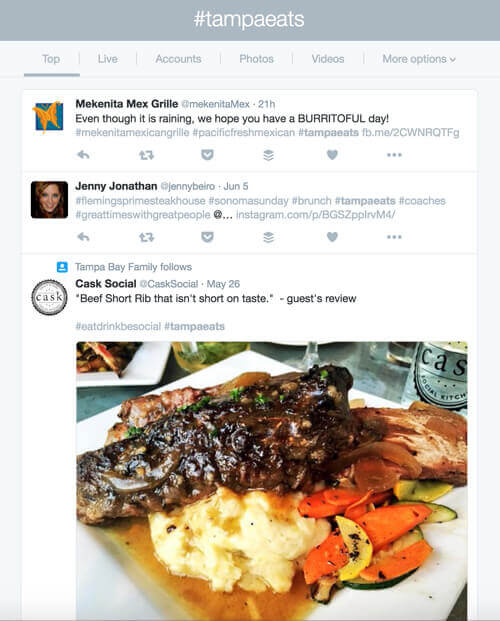 Hashtag Rules for the Road
keep your hashtags short, easy to remember, and easy to spell
don't spam - if you put irrelevant or too many posts in a tag people will ignore them and it shows as a negative and can even get you suspended on twitter
for instagram try to only put one or two hashtags in the caption and any extras can go in comments and work as well without making your post look spammy
if you are a local business serving clients in your area - always use your vicinity hashtag like #miami or #tampa and see if there are any local hashtags relevant to your industry being used by consumers
use hashtags.org to find trending hashtags by category
use hashtagify.me to find related hashtags
use tagboard.com to find posts by a hashtag in a pinterest style display
Great B2B Hashtags to Use For Marketing
#smallbiz #smallbusiness #business #retail #sales #marketing #mktg #networking #consumers #economy #entrepreneurs #socialmedia #smallbizsat #smallbusinessssaturday #shoplocal #startups #leadership #restaurant #socbiz #ecommerce #management #tech #it #mobile #apps #b2b #biztip #diy #howto #tutorial
Other Great Hashtags to Use For Marketing
#discount #deal #instagood #tbt #photooftheday #follow #fashion #style #selfie #instadaily #food #foodie #inthekitchen #whatsfordinner #inspire #followfriday #mcm #quoteoftheday #readthisbook #ireadforfun #nonfiction #photography #portrait #faith #fitnessaddict #healthyliving #realestate #homesearch #househunting #bridetobe #ilovemydog #investing #momlife
We thought you might like to see these other posts about social marketing...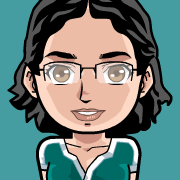 About The Author
Kim Young
is Founder, CEO, and a developer at
Foo
- a web development company based in Wesley Chapel, Florida. She can also be found on
Google+
. With over 16 years of experience as a web developer, Kim is excited to share with you tidbits that she has picked up along the way. Kim prioritizes continuing education and out of box thinking in order to bring the most valuable solution to Fooweb's clients.