Web Design & Internet Marketing
Text or Call Now:
813.360.0932
How to Make the Perfect Meet the Team Page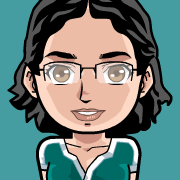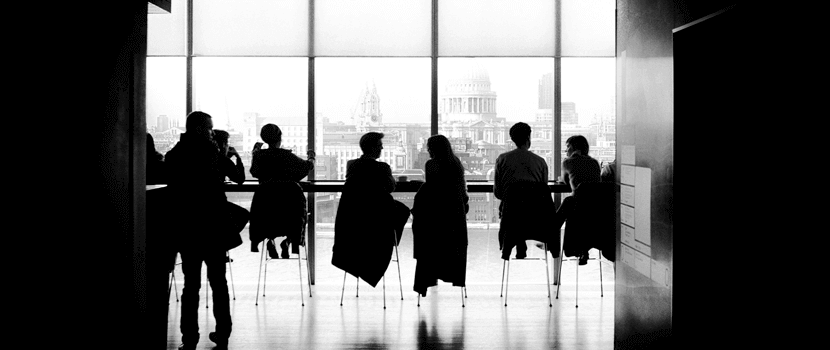 We all work with a team. Whether your team is 2 or 2,000 your clients want to know who you are. In a world where the trend has long been towards isolation, outsourcing, and efficiency what clients really crave is a personal touch. Why else do so many of them pay more money for the same product from a mom and pop shop or make an extra effort to frequent a locally owned restaurant rather than a chain? Though we are training ourselves to do more with less interaction (texts, emails, virtual receptionists, automated services), what we really crave is a level of humanness in our services. How often have you yelled at a phone prompt system asking it to give you a real live person?
Well-developed web design has trended, as of recent, to include very interesting "meet the team" pages. Many companies have had a lot of fun with their meet the team pages, whether they get funny and show a more human side of the team or just display the information in interesting ways…
Your Meet the Team Page is one of the most important pages on your website. It allows you to give your clients or customers a glimpse into the world behind your company, which adds a personalized touch. When you get personal your customers becomes attached to your company. There are several ways to go about this, here are 5 reasons you need a Meet the Team Page.
Get your customers and clients to feel as if they know you. This allows them to connect.
It's the perfect way to make your brand memorable.
Stories stay in the minds of your customers for a long time.
You stop being a faceless co-operation and move into the realm of approachable.
It's a fun way to gain publicity by using humor.
To Write in First or Second Person?
When building an about page the first question most businesses want to know is whether it should be written in first or third person. This is entirely down to the type of business, but it is good practice these days to use a first person approach. This would mean using words like, we, I etc instead of, he, they.
If it is just one person behind the business and you use plural pronouns, you can lose credibility entirely. However, as a team using we, and us is a trustworthy way to describe your business.
Address the customer personally by using the word you, yours etc.
What Should I have on my Meet the Team Page?
A lot of interesting Meet the Team pages are using pictures of their team; Vimeo does this in two diverse ways on their about us page.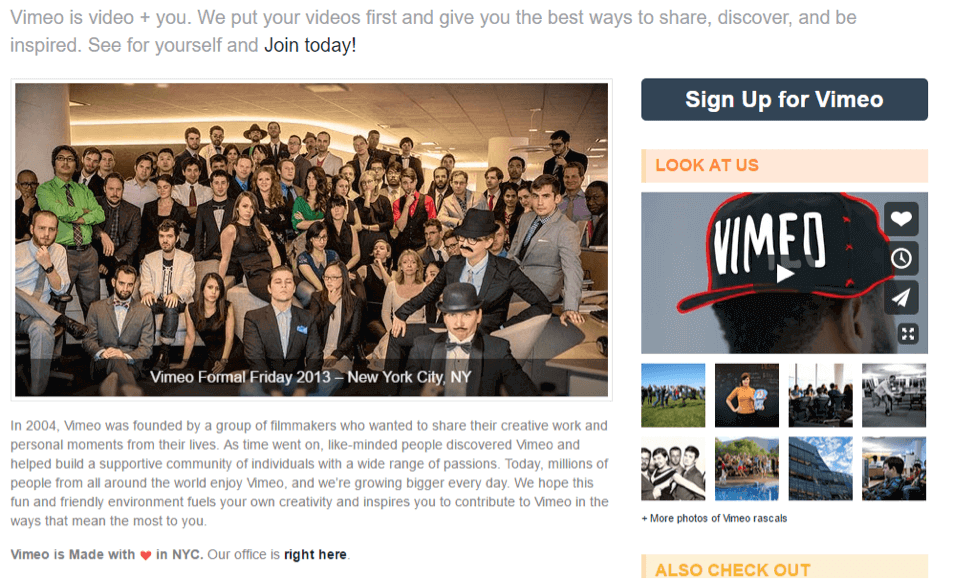 Not only do they use images of their team together having fun, but they include personalized pictures too, so you can meet each person individually. This is different and something that not a lot of businesses are doing with their pictures of the team.
Foundation Training came up with a fun gimmick with their images and a small personalized bio for each of their team. This unique image will be hard to forget, which makes their brand memorable and brings back customers.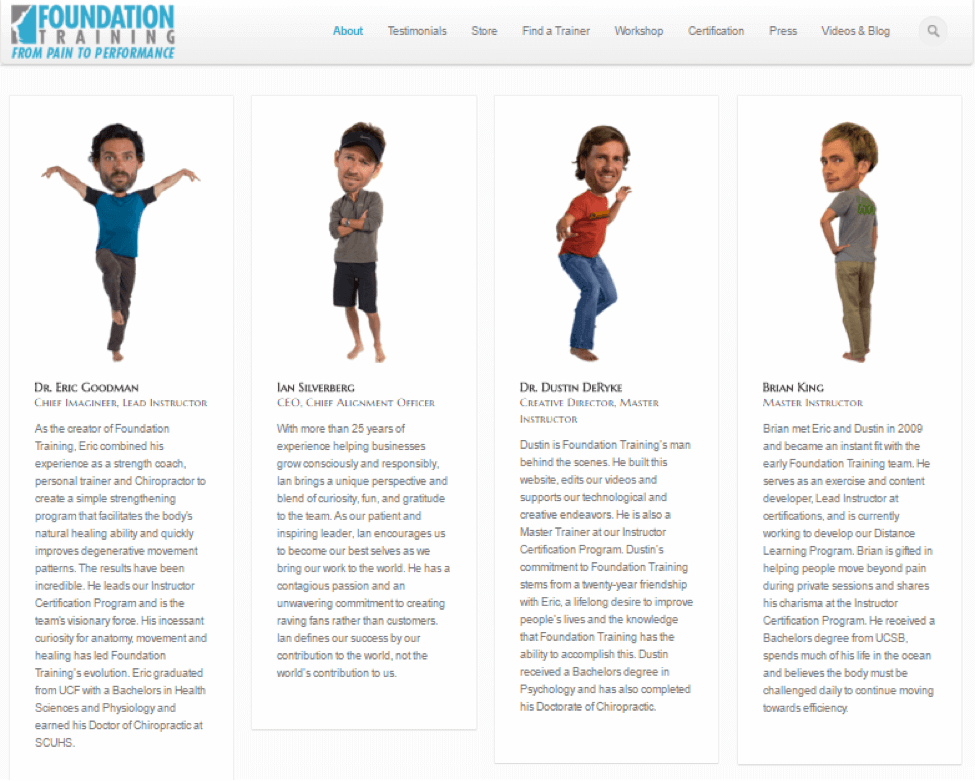 The best way to be engaging is to talk to your customer as if they were a friend. Tell them about your team like you would tell your best friend about it, use quirky words, and use the senses.
Exponentpr does this well, with a unique twist on images and words such as, clashing agendas, and an amazing subheading 'We build brands from the beliefs up.' Pretty much everything about their Meet the Team page is expertly written to convert.
If you break it down, the phrase clashing agendas works well because it isn't a phrase you hear often, and uses onomatopoeia to appeal to your brain. Their subheading takes a generic phrase and adds a new twist that wakes up your mind and has you hooked to the text. This is how copywriting should be.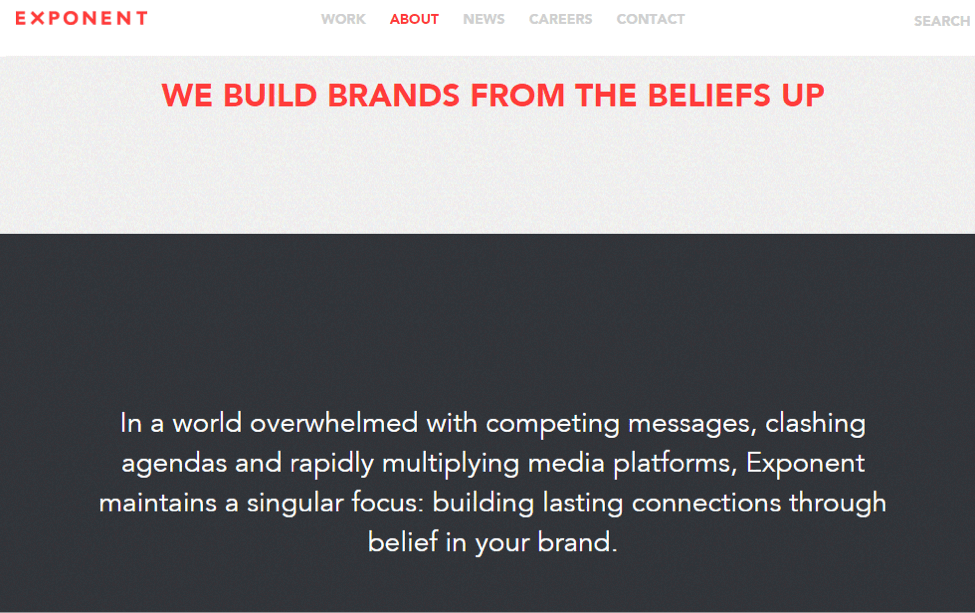 They even have great examples of using a catchy first line, and questions to pull their readers in. Catchy first lines are something that appeals to the reader's curiosity. In this example you wonder what the writer is talking about, whose on a farm, are they still on a farm? And you read on.
'You can take the girl off the farm...Wait, no, that doesn't work either.' – (Exponentpr, 2016)
They also use the rule of three -- all whilst introducing their team.
'Complicated agronomic or animal topics? No problem. Practical connections with professional and lifestyle agriculture? No sweat. Finding consensus among diverse audiences? Can do.'- (Exponentpr, 2016)
The rule of three is doing something three times, it's catchy and it cements a concept in the readers brain. In this case they ask three questions -- but you can do this anywhere, even three descriptive words in a row – which is a splendid, alluring and downright ambitious idea.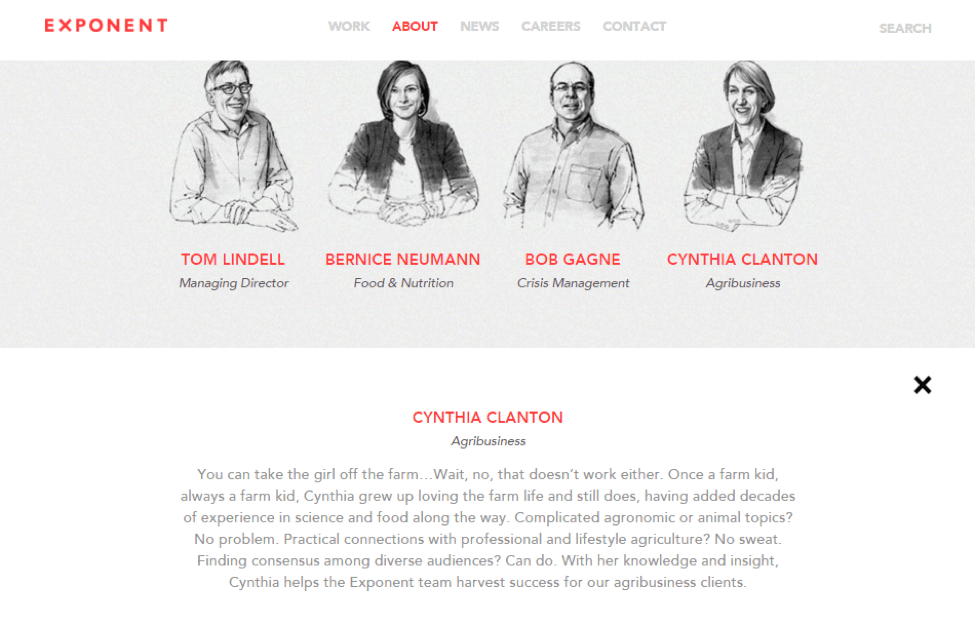 If you can't get your team together to take professional pictures -- maybe because they're too busy and are all over the world -- one fun way to do it is with cartoon images instead. A great example of this is by RKH who not only use cartoon images but add a touch of quirk and humor too.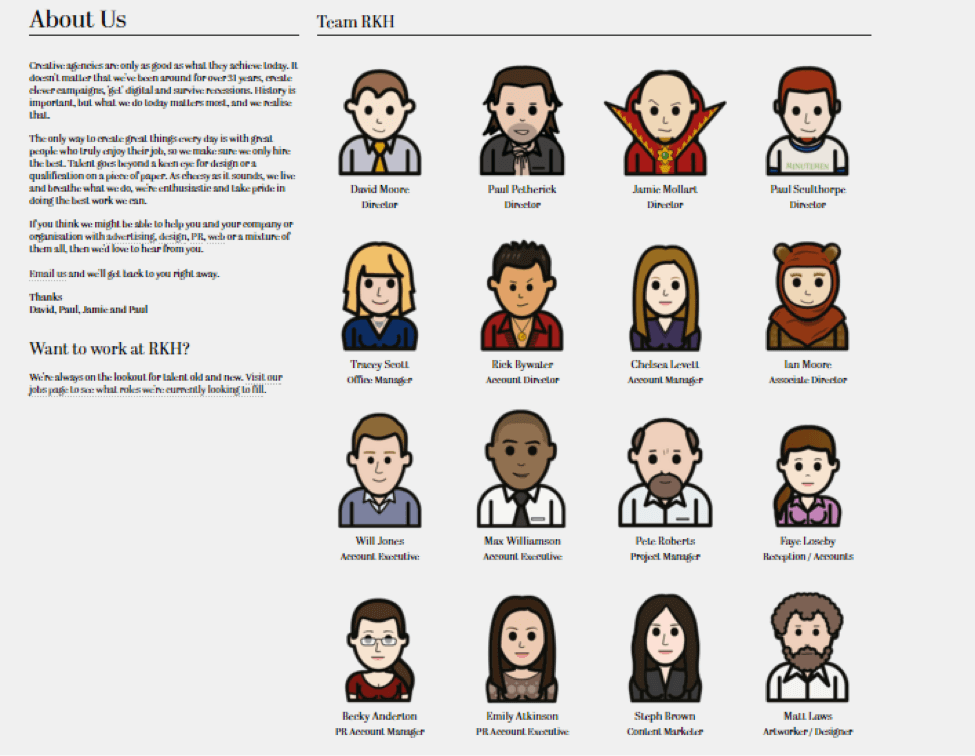 Stand out to Your Customers with your Meet the Team Page
The right touch of humor can go a long way if it suits your company. There are many about us pages that use a little bit of quirk to reel in their customers. Humor resonates with people and makes them feel as if they are connecting with you. You can add humor to your Meet the Team page in many different ways, hiring a good content writer is a start. Some companies do this with images such as Curalate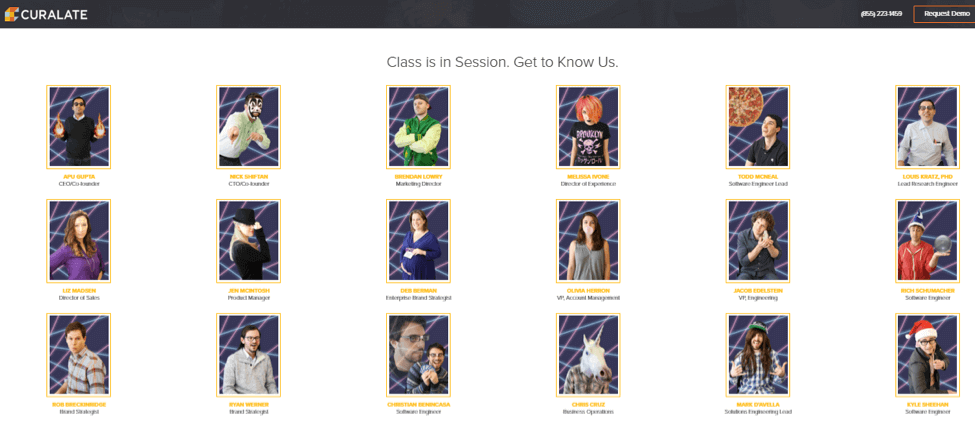 And others do this with text.
To pull this off successfully use short punchy sentences and get to the point quickly – no one wants to read a wall of words. An example of this can be found at JaredDigital.

The Take Away
Learning from these Meet the Team pages that work here are 5 things to add to your Meet the Team Page.
Add pictures of your team, be it cartoon or realistic.
Use humor to get your clients and customers to relate.
Stand out; be bold and different to be memorable.
Use short punchy sentences, and talk to your readers as if they were one of your friends.
Have a catchy headline, first line or use words that wake up the senses.
Meet the Team Pages can be diverse and interesting, use them as a way to pull in customers as this is the ultimate goal for your Meet the Team Page. Most clients and customers are first and foremost interested in themselves, not you, which means you have to speak directly to them. Tell them why they should be interested in you, be likeable and make a connection.
We thought you might like to see these other posts about web design...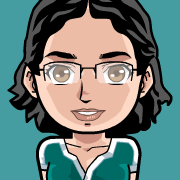 About The Author
Kim Young
is Founder, CEO, and a developer at
Foo
- a web development company based in Wesley Chapel, Florida. She can also be found on
Google+
. With over 16 years of experience as a web developer, Kim is excited to share with you tidbits that she has picked up along the way. Kim prioritizes continuing education and out of box thinking in order to bring the most valuable solution to Fooweb's clients.